We had another great week in chat!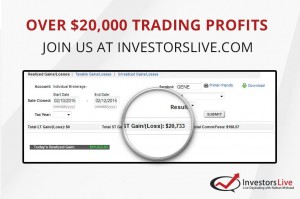 This week, we were focusing on the stock GENE among others and we nailed the trades. Plenty of members profited and I cleared over $20,000 in profits in a couple of days.
How did we do it? Simple. We find the hot stocks and we apply our trading rules to them. Focus is key! Focusing on a few tickers helps prepare you for the big moves.
Check out this free video lesson I put together explaining my rationale behind the GENE trade.
If you want to learn even more, check out some free blog posts at Investors Live.
If you want to join us in chat, sign up at Investors Underground.